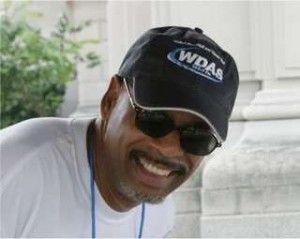 105.3 WDAS FM, Philly's only station for an Adult Mix of R&B and Classic Soul, will celebrate Tony Brown's 40 years in radio with a concert on Thursday, July 25, 2013 at 7:00 p.m. at the Dell Music Center featuring a live performance by The Whispers. The event is part of the Dell Music Center's 2013 Essence of Entertainment Concert series and features performances by The Whispers, The Stylistics, The Chi-Lites, and Breakwater.
For more than 40 years, Brown's silky smooth voice has been synonymous with the sounds of the night in the Delaware Valley. Fans can hear Tony on The Quiet Storm which airs on WDAS-FM weeknights from 7 p.m. to midnight and The Sunday Jazz Brunch which can be heard on Sundays from 12-3:00 p.m. Brown's career in radio started at Temple University's WRTI in 1969. He went on to work at WDAS-FM in 1972 with The Extrasensory Connection, which later became The Quiet Storm in 1976. Brown took The Quiet Storm to Power 99 fm from 1989 to 1997 and brought it back to WDAS-FM in August of 1997 where it continues to draw a devoted following of listeners. Many may not know that Brown also helped co-write his signature theme song "The Quiet Storm" with Bert Willis, Rob Arthurs, and Rudy Gay.
For tickets go to www.ticketmaster.com. The Dell Music Center is located at Ridge Avenue and Huntingdon Drive. For more information call 215-683-3634 or www.mydelleast.com.
Fans can listen to WDAS-FM on the station's website wdasfm.com, as well as on iHeartRadio.com and the iHeartRadio mobile app, iHeartmedia (formerly Clear Channel)'s all-in-one free digital listening service. iHeartRadio delivers everything listeners want in one free, fully-integrated service: instant access to more than 1,500 of the nation's most popular live broadcast and digital-only radio stations from 150 cities, plus user-created custom stations inspired by favorite artists and songs. iHeartRadio also offers listeners a new "Perfect For" feature which allows users to choose from thousands of curated stations based on a range of moods and activities.