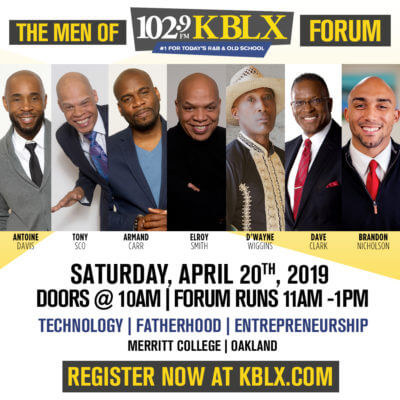 BONNEVILLE International/SF., Urban AC 102.9 KBLX continues to impact the Bay Area community with a forum entitled "The Men Of KBLX," with the male on-air personalities of KBLX and their Program Director, Elroy Smith, hosting.
The subjects covered at this forum will be fatherhood, technology/coding and entrepreneurship with experts; Dr. Brandon Nicholson, Ph.D. -founder of Hidden Genius Project, veteran news anchor, Dave Clark, from The Bay Area's #1 morning news station KTVU-Fox 2, and acclaimed musician, D'Wayne Wiggins, from the award-winning trio, Tony! Toni! Tone!. "If there is one thing that we take to heart at KBLX, it is giving our all to the community," says Smith.
"This initiative is designed to create a network for men to motivate each other toward success. In addition, this forum encourages its attendees to strive to live their best life and to be a powerful influence in their community."
The Men of KBLX empowerment forum will be on Saturday, April 20, from 11 a.m. to 1 p.m. For free registration go to KBLX.COM!