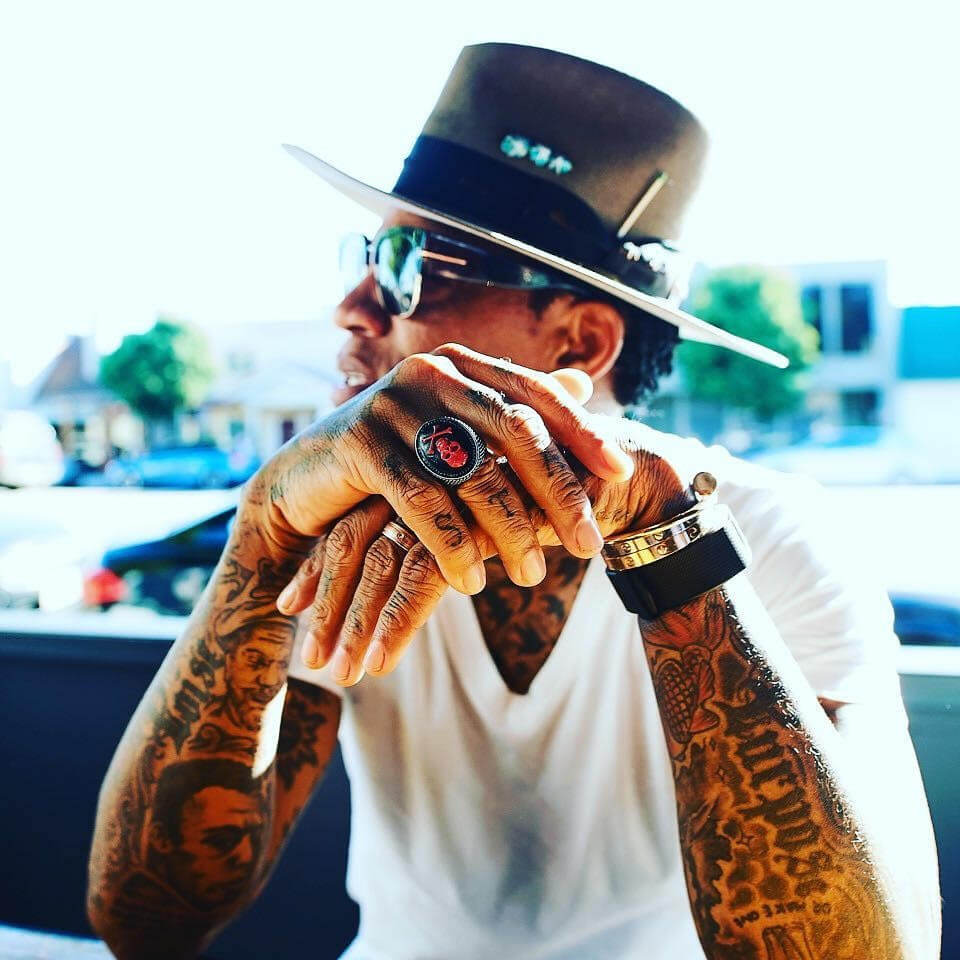 The thing I like most about DL Hughley is that he doesn't take himself too seriously. He is one of those rare people who has to be who they are in order to be fully beneficial to their purpose. He's a confident and independent thinker who is modest and appreciative of his platforms. Yet, it appears, he's not fully aware of his impact, which is fortunate because he can't be swayed to move in the direction of external influence and he remains true to his own direction with little concern of who likes or dislikes his position. This year DL has had a best selling book "How Not to Get Shot: And Other Advice From White People" and his videos continue to make a HUGE impact online and on the Radio Facts site when it comes to expressing his opinion on politics or whatever else the controversial topic of the week is.
KEVIN ROSS: So let's talk about radio. You've been doing it now for what, about 25 years?
D.L. HUGHLEY: It's funny. I did it at KJLH [Los Angeles] when I was the morning man. I did it at Kiss-FM [the former WRKS/New York] and I've been doing the current show [Reach Media/Radio One syndication] for about five years or so. I have always loved the medium. And it's funny because I never got a chance to do it this continuously. But I didn't necessarily understand it or it's input. From a consumer's outlook, I've always understood it because when I lived in LA and I didn't know anything, it was my entry into the world. But I understand how, you know, from this side of the microphone, how important it is to be clear. And so, uh, I've done it, you know, off and on, I would say about 12 years, but I understand how important it is to be clear in how important it is to make sure you take a side. You've got to take a side.
I thought it was longer than that because I remember you. I missed you at KJLH because I was on there for a while and that was like the early, I want to say, maybe the late-nineties?
Yeah, because, remember, I got fired by Stevie Wonder?
What did you do? I don't remember that. What happened?
Because I said KGLH was so raggedy that even Stevie Wonder could see it.
Okay. I thought it was longer. Now when you were doing WRKS in New York that was an interesting situation because you were not actually being paid for that, correct?
No, because, you know, it put me in a horrible tax situation because we signed the deal and I thought they would honor it but it ended up not being that way. But I love the medium so much and I thought, well, you know, eventually they'll work this thing out. Unfortunately, that deal didn't work out, but it did prepare me for this one. So I guess I'm balanced. It worked out positively, I just didn't see it at that time.
So you've done TV. They even tried to get you on the political TV circuit. What was the situation with that? Why didn't that work out?
Oh, well, CNN used to get a million people a weekend. And what happened was at the same time we were doing the show, the huge economic downturn happened. The bottom fell out of the economy. So all the things people have money for, in terms of frivolous, things like a black dude doing a political show or a news show – they didn't have the money for it. And you know, it's like everything else. Last ones hired, first ones fired, but I enjoyed the experience.
So where do you think radio is going at this point? I know that you do a lot of TV appearances and you go outside of just doing radio. What do you see as the future for radio right now? Do you think you could just be on the air and not do anything else?
Like anything else in society right now, I think that standing on the sidelines or being benign and pretending like you don't see what you see is not acceptable to society anymore. I don't care what endeavor you're in. I don't care what it is. If Nike can take a side as a corporation, you have to take a side as a human being. I'm not saying you have to be loud, but you have to let people know where you stand. I think a lot of people in corporations in radio, you know, just an amalgamation of corporations want commerce without any [controversy] and that's impossible in this environment. What you try to do is be who you are and hope that people understand that you're being who you are. You've got to choose the hill you wanna die on and make sure when you say something, you mean it.
Do you think that you've had to dumb down at times to fit in?
Well, I don't have to dumb down because I'm not necessarily that bright a guy. It's not that big of a reach. I don't think I've had to do anything that I'm uncomfortable doing but I think some people have been uncomfortable with a lot of things I said.
That's interesting that you don't see yourself as intelligent. What are your favorite mediums beside radio? Do you like podcasting?
I think podcasting is an interesting arena. It started out great and now everybody has one. And the end goal is to try to monetize it. So that will mean it will have the same kind of corporate infringement that everything else does. But I think the idea of it is dope. I just don't like the application of it because the same people who do radio want to get the same money that they are not getting in radio anymore with podcasts. So it's two parts to the same thing.
Have you won any awards in radio?
No. No, man.
So this will be your first honor?
What I want to be and what I understand is I am saddened that so many people are indifferent to my people and by my people, I mean human beings. I think that you have, at a certain point, if you have a microphone or a canvas or any apparatus, it expounds your perspective and you have an obligation to say what you see and it makes me sad that for commerce's sake, people would do almost anything. It makes me sad. And I refuse to do that now. Like if they don't dig me on radio, I'll just do the road. If they don't dig me on the road, I'll write books. If they don't dig me writing books, I'll dig ditches but I'm never going to be like that again in my life. I spent a lot of time when I was a little boy being scared. And I don't want to do that anymore.
And speaking of which, I want to talk to you about that. You have a very interesting background. I know that I've heard you in various interviews talking about how you had some issues with your mom growing up. Give me a little more information about that and how, with those circumstances, you make a decision to go either left or right.
I don't know if you make the decision to do that. Listen, I'm a lot luckier than I am gifted. And I understand that, but I think now, I know so much now about growing up and what it meant, and that I think a lot of people have a tendency to put their parents in a certain place and, in the end, they're just human beings. My mother was a very young woman. My mother was about 16-years, 17-years-old. So imagine being a kid and raising someone, and you didn't like the father and the little boy reminds you of the father. I think that played itself out a lot of times. But I don't have malice and I do understand.
One of the things that relationship taught me is if you're not certain whether you're loved in your home, it gives you more freedom than I think a lot of people have. Because once you have affirmation, when you're young, then you seek it when you don't have it. It's like if all of a sudden I was blind and everybody cut the lights off, I wouldn't know the difference. And I think it has felt like that to me.
Let me make sure I'm clear on this. You're saying that if you don't know you're loved as a child, that it is an advantage?
I think you deal with the circumstances you have, but I think a lot of people who know that they're loved or get positive affirmation, they seek it. It is important to them. Because I didn't have that kind of affirmation, I'm indifferent towards it. I like it when I get it, but I don't necessarily need it to survive. It's not my goal. And I think it served me well in terms of a creative standpoint because my goal is to be as clear as possible, not to get a level of affirmation from the people who listen to me or who are around me. I believe that if I have a perspective, my only obligation is to be as true to that perspective as I can possibly be.
That's very interesting. I actually think it can go either way. It's like if you're not sure if you were loved as a child, you DO seek it. And I think that if you have it, then you have more self-esteem and/or confidence.
It can go either way. [But] You can't miss what you never had. I really believe that there are too many people and I think it's the function of where we are as a society in the function of a technical apparatus. Look at the things that people are willing to do just on social media to get a like. That comes from somewhere. Look at the things people are willing to apologize for to [encourage] favor. It comes from somewhere.
So you went through that situation with your mom and you say that you think you've been lucky. You also said it served you. How did it serve you?
I heard an analogy and I agree with it — you are either like a rose or a cactus. A cactus don't need no water. It can grow anyway. It needs the bare minimum of anything, the bare minimum. It survives — and even thrives — without all the accouterments. A rose needs light, attention and pruning, you know, and optimum circumstances. I'm more like a lot of black people than people can admit. I don't know anybody, or very many people, who started out in optimal circumstances and became uber successful. I've known a lot of people that had horrible circumstances and now thrive.
I agree. I think the setbacks can serve you and I think a lot of times it serves one's independence. When you know you can't go back home, you're going to make sure you never have to.
Right. You don't want to. You ain't welcome. Have you ever seen a homeless person on the streets? That person. He had a family, or she had a family, and whatever happened. That family is gone for whatever reason. So it's a lot of people that couldn't do it and they didn't do it. But then we see a lot of people from those same circumstances who manage. Like, the reason I used to love Kanye is because of where he came from. The reason I can't now is because [he doesn't make reference] to where he came from. Like, I loved Jim Brown. But I think the old Jim Brown wouldn't recognize the new Jim Brown.
What are your thoughts on who you surround yourself with? Some industry people say they don't like a lot of friends or they like to keep their circle small.
I don't think you have to keep your circle small. The time, circumstances, mental and emotional output dictate that. Like, I've never had to try to keep my circle small. It ain't that many people that like me, so it's not hard to keep it small. But I was responsible for a family to raise. I always had to check-in to make sure that no matter what I did or didn't do, that I was able to take care of my responsibilities. So that is a check and balance within itself and I just think those things kind of work out when you are a certain way. You will either attract or move people out of your space. That's a natural function of just living. And so I've been very fortunate. They either dig me or they don't.
Pages: 1 | 2