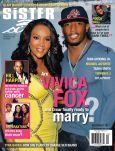 Vivica A. Fox"¦How She Felt Before The Big Break-Up With Omar "Slimm" White
Hollywood beauty and Kill Bill star, Vivica A. Fox, shares her heartfelt feelings with S2S publisher Jamie Foster Brown about her relationship with fiancé Omar "Slimm" White before their break-up. She says, "I like him because he's a Southern gentleman. He's down to earth. He's very low-key, which is perfect for me 'cause if I met someone that was on as much as me, I don't know what would happen."
Ironically, in Omar's world, the two had broken up again and it was over. He found out about him and Vivica being on the cover for the December issue of S2S and quickly ran out to get the magazine. After buying 3 magazines, Omar sent a text to Jamie saying, "She (Vivica) reached out to me, but I had got to the point where I was tired, so I didn't try rekindling what we had." When asked if he and Vivica could be friends, he adds, "Probably eventually"¦The ego will destroy any relationship, and we had two strong people." Page 66
See the story in S2S Magazine, on newsstands Tuesday, 11/8/2011.
Oprah Brings Top Model Tyra Banks To Tears
In an exclusive sit down interview with S2S, Top Model Tyra Banks gives details about her dark novel, Modelland, advice on what to do with a weak man, the strong man in her life and how a conversation with Oprah made her cry. She says, "I can say that one time it brought tears to my eyes, speaking with her, just the knowledge that she gives." Page 25
Hill Harper"¦Back From Cancer And Walking Down The Aisle?
In an up close and personal interview with S2S's Jamie Foster Brown, Hollywood heart throb and New York Times Best Selling Author Hill Harper talks candidly about his bout with cancer, his long distance love that may have him walking down the aisle soon and why you shouldn't sit around waiting for Mr. or Ms. Right. He advises, "There's nothing wrong with just dating someone and enjoying being with them, even though they may not be your potential husband or wife. I don't think people should sit at home and be monks." Page 72
Basketball Wives: LA's Draya Michelle"¦On Why The Show Needs A New Cast
Draya Michelle of the hot VH1's popular Basketball Wives: LA has been portrayed as the weak cast member in the series. But in real life she's a strong, independent, single, working mom. She tells S2S
the show will need new blood and more drama to stay interesting. She explains, "If we do the same cast, it's going to be pretty boring." Page 32
90210's Tristan Wilds Like's a Sexy Mind
Hunky Tristan Wilds is not your average 22-year-old testosterone driven man when it comes to love. The sexy 90210 star, who was once a chubby kid, gives S2S the scoop on how he feels about being a sex symbol and what he likes in a woman. The hot celeb is single and looking to mingle but says, "I like a girl that I can talk to – like a real, intellectual conversation"¦I'd rather have sex with her mind first than really her body." Page 33
More Sister 2 Sister Hot Hollywood stories and cool videos go to: www.S2Smagazine.com
.................................................................................................