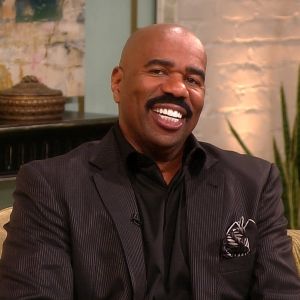 Greetings Radio Facts fans. I know that some of you may be pissed at me for not including links to each story but the new layout looks great, don't you think? Besides, I don't want you to miss out on anything by looking at just one story.
Steve Harvey
OK, I get it, I realize the brilliant visionary Steve Harvey is now. After watching the trailer for Think Like a Man I realized this is something that we almost NEVER see from Hollywood.. AN ALL BLACK CAST (well, almost all black) nevertheless, Steve's concept and idea is nothing less than brilliant. I was pissed at his show for the longest time because it was putting announcers out of work, now I realize he had to do the radio gig to take his idea to the next level. Hollywood would have NEVER given Steve the opportunity to do what he is about to do. As black men we have to come 300 times harder and smarter and Steve has done just that. In addition, it is up to US to reinvent ourselves instead of giving up. The corporations are really the ones I should have been pissed at for giving the syndicated shows carte blanche and treating the announcers like shit.
Truth be told, I would not last a week working for a corporation in today's radio and I have no plans to do it. I like it just fine from this position….
Speaking of which, I have decided to be a lot more progressive with Radio Facts. It's not that I haven't always been progressive but.. Anyway, I wrote this poem about what I'm talking about for you. It's called…
"Cheese Grits"
a poem by Kevin Ross
It's time to let old RADIO…GO
And come up with a whole NEW SHOW.
Just why is it that you can't see
What USED TO BE is HISTORY.
Progress equals Success
And Regress equals MUCH LESS.
Those who Reflect, Get little RESPECT
Cause they only COLLECT Two Dollar paychecks….
There is no time for ANYONE…
who just can't see what's done is DONE!
Want to talk bout what used to be?
I'll call you back… uh, I'm BUSY.
Your space is needed for a NEW Tenant
Who's willing to pay on THIS YEAR'S rent…
If you can't do today's radio,
go get a job at the grocery sto
Stop talking bout what used to be
cause YOU won't grow in the industry.
Thank you for reading my poem "Cheese Grits"
Joyner at the Hip?
No word on Joyner's hip surgery. You may know more than we do since the show is not heard anywhere near California.
Contest and Other things…
Finals time. Two more finals and I'm done for 7 weeks. I LOVE school then I can get back into my maniac workouts. I LOVE LA.
This is by far the BIGGEST contest we have done. (The Top 20 Radio Shows of 2011) The site is BOMBARDED with so many votes I don't have time to read them all. The winners will be announced on Jan 5, 2012.
Talk to u soon
Kev