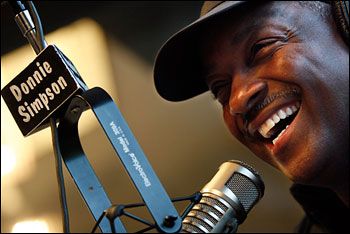 NANCY HOFF at NancyHoff20@yahoo.com or RSVP at the R&R ALUMNI FACEBOOK page.
——————————————
PROMOTE YOUR PRODUCT TO THE INDUSTRY, BLASTADVANTAGE CAN HELP GIVE YOU MAXIMUM INDUSTRY EXPOSURE CONTACT KEVIN ROSS
———————————————
Premiere radio is fighting tooth and nail to keep Steve Harvey on at the station that is about to drop the show. Unfortunately, the station has made up its mind. The irony is where the station is located. I'll keep you in suspense a little while longer if you don't already know. There is yet ANOTHER station that is seriously looking at dropping the show as well and this one is a surprise. I asked the PD why he was looking at other options and he told me (Oh, I can't reveal that). I have to protect my sources.
A change at KPRS for the morning show?     I'm still predicting Rickey Smiley will be on soon.
I broke my vegetarian rules yesterday and finally had some chicken wings that I had been thinking about for a least a week. I'm sure I was craving more protein but the wings were not that good. Ironically, I got into it with the management at the bar (Big Wangs in the Valley-North Hollywood). I thought it was very strange that they asked me for my credit card after I placed my order then they charged my credit card BEFORE I ate and they OVERCHARGED it by $5.00 trying to estimate if I had enough on the card to cover it. Can you stand that sh…? The dingy ass waitress thought the overcharge was going to be a part of her tip.. SURPRISE!   I was talking to some other brothers in the place who said they did the same thing to them.
I was thinking there must have been some of us who came in there and ran some kind of game on them. Sometimes it's really hard to defend my race with some of the ridiculous sh…ty videos and news I get in my email each day to post on the blog. Mothers going up to high schools to jump girls with their daughters,   a grown man punching a beautiful sister square in the face because she didn't want to talk to him, young men raping grand mothers and grown women dancing naked on camera in front of their toddlers.   I know it happens in all races but it really hits home when it happens in your OWN. I surmise all this sh… is not new it's just that emerging technology brings it to the national platform forefront. Nevertheless, I was still extremely offended by that restaurant sh… and will never eat there again. Guess that's what I get for breaking away from my raw foods. You really do feel better when you cut out meat and you get the added benefit of weight loss. Got a busy coupla days ahead.
Have a great weekend.
Kev Ross