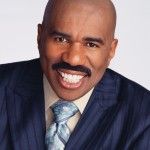 Tom Joyner and Steve Harvey are still 50/50 subjects for me. I admire all that they have done but I am pro black LOCAL announcers and I want to see them groomed and be the stars of tomorrow. If it's not going to happen on urban radio then in 2011, I have to find a way to make it happen in other mediums. I know that Steve has many other talents and endeavors and I really don't see him doing the morning show for more than 3 more years at the rate he is going. He is not a "radio" man but Tom is. I see Tom doing it for as long as he can.

You may have noticed all the contest that we are doing to honor the past present and future (?) legends of the industry. Thanks for the MANY emails and comments about how much you appreciate it. I realized nobody else is doing it and that will be our direction in 2011. We will still do news but we want to make urban industry people feel and be important. I realize we want and DESERVE recognition for our amazing contributions to this industry.   I am thrilled at the contests and events we have in store for you in 2011.

I will post during the break if any news happens, in the meantime have a GREAT Christmas and a Happy and Prosperous New Year. Aim HIGH in 2011!